Ruralis was set up in 2010 by David Gluck, a professional in rural development with 25 years experience working for  the Rural Development Commission, the Countryside Agency, Commission for Rural Communities and in private consultancy.
Ruralis is designed to be different. We are a growing group of rural development professionals intent on providing a first class service to rural communities directly, with our offer to you based upon experience, knowledge, expertise and commitment to rural communities.
We are not here to make a profit for shareholders. We are not here to tell you what you already know. We are not "consultants".
We are people who are committed to and passionate about the potential of our rural communities, the countryside within which they are situated and from which they draw their inspiration and heritage.
Please browse our web pages, learn about what we do and what we can offer you. If you like what you see and read, get in touch and we will respond quickly to you and arrange to meet and discuss your requirements.
Policy Bee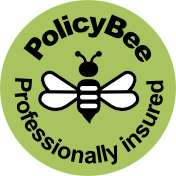 We have:

Professional indemnity

Employers' liability

Public liability